My events are like backyard bonfire sing-a-longs. Be prepared to sing a few with me!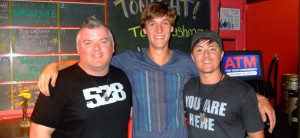 I normally play events in the Philadelphia area, around Montgomery and Bucks County, with on occasional stop in Delaware County.
I've had the pleasure of playing with some amazing people over the years.  Kenny Ferrier, Stephan Hayes (both pictured left), The Here & Now, The Dell Project, Rich Cashman, Shawn Byrne and of course – Ray Crawford, Brian Spear and Frank Schlupp.  Always learning with these guys!
Being the end of the year 2014, and it's time to spend with family, I currently do not have any events booked.  My 2nd baby boy is due in January and I can't wait to meet him!
Still – I'll be looking to book in Q1 2015 and I encourage you to stay tuned either here, my Facebook page, Twitter, or by email.